After a year of a pandemic, we have seen a drastic increase in home improvement projects. As people spend more time indoors, they begin to notice ways that they would like to update their home and working space for a more modern feel. Moreover, people are buying and selling their homes at a much faster rate these days, so keeping one's home market-ready is on the minds of many homeowners. One of the fastest and most effective ways to upgrade the aesthetics of your home is to update your flooring. Instead of spending money on multiple, smaller upgrades, you can invest in the overall improvement of your flooring. Not only will you be changing a larger space at one time, but you will also be investing in the eventual resale value of the home. However, before you make any sudden changes to your floors, take a look at the following hardwood flooring trends projected for 2021. As with any home improvement project, some options will stand the test of time while others are only meant to be here for a season. The options are endless, but we at Patrick Daigle Hardwood Flooring have narrowed those options down for you with special insider information regarding how long each trend should last you.
2021 Trends in Hardwood Flooring Types
Engineered Wood is the closest you can get to natural wood without it being actual hardwood. This type of flooring is made of man-made materials, and it is protected with a thin layer of hardwood veneer. Thanks to the medium-density or high-density fiberboards found within it, this tends to be a very durable option for homes. Many homeowners enjoy the easy installation and the way that this type of flooring is ready to go once it is installed. Not only is this a common trend, but it is definitely sticking around for the long haul.
Reclaimed Wood is one of the most sustainable options for eco-friendly homes. It is made up of recycled wood and can come from leftover materials that once made up things like decking, wine barrels, or barns. It easily gives a worn look that many homeowners hope to achieve. The fact that this option is rare makes it continuously desirable. The life expectancy on this trend is about ten years or so.
Cork is another eco-friendly option you can choose for your flooring needs. It is surprisingly durable, and the look can be very unique. Though it has been around for a long time, many believe cork has met its peak in the history of flooring trends. However, this is expected to continue being a popular option for those who prioritize sustainability in their homes
American Grown flooring is meant for the local shopper. This growing trend emphasizes one's patriotism as it supports the local industry of the wood itself and of the machines manufacturing the planks. This new trend has just begun to soar, so we expect to see it around in years to come.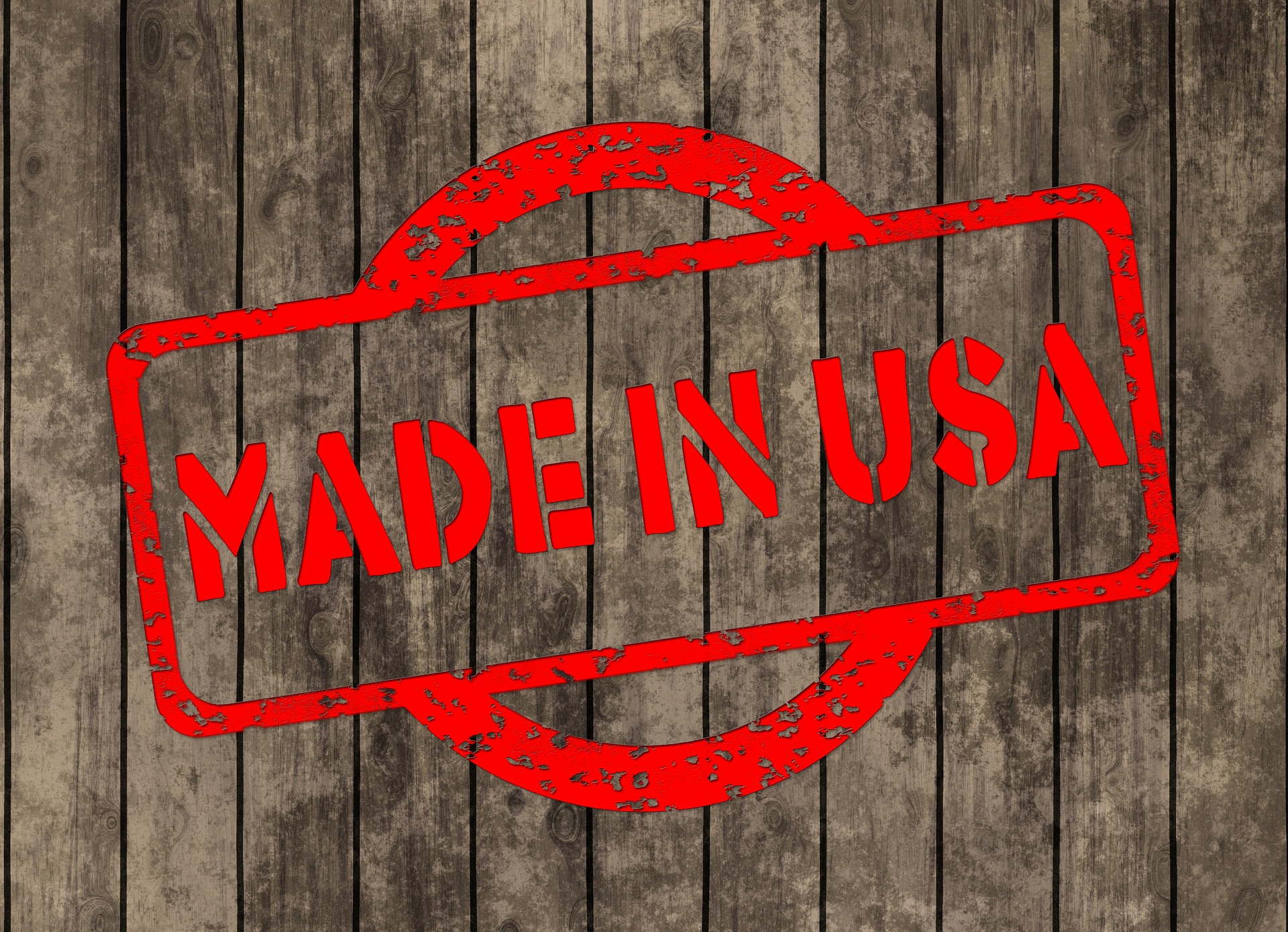 2021 Trends in Hardwood Flooring Species
White oak wood flooring is an affordable option that delivers a nice grain combined with a contemporary personality. This yellow undertone option is not to be confused with the cooler undertones of its close partner, European white oak wood flooring, which has a tighter grain than the former. Both options are wildly popular right now, but white oak wood flooring is expected to outlive the 15-20 years of longevity estimated for its European counterpart.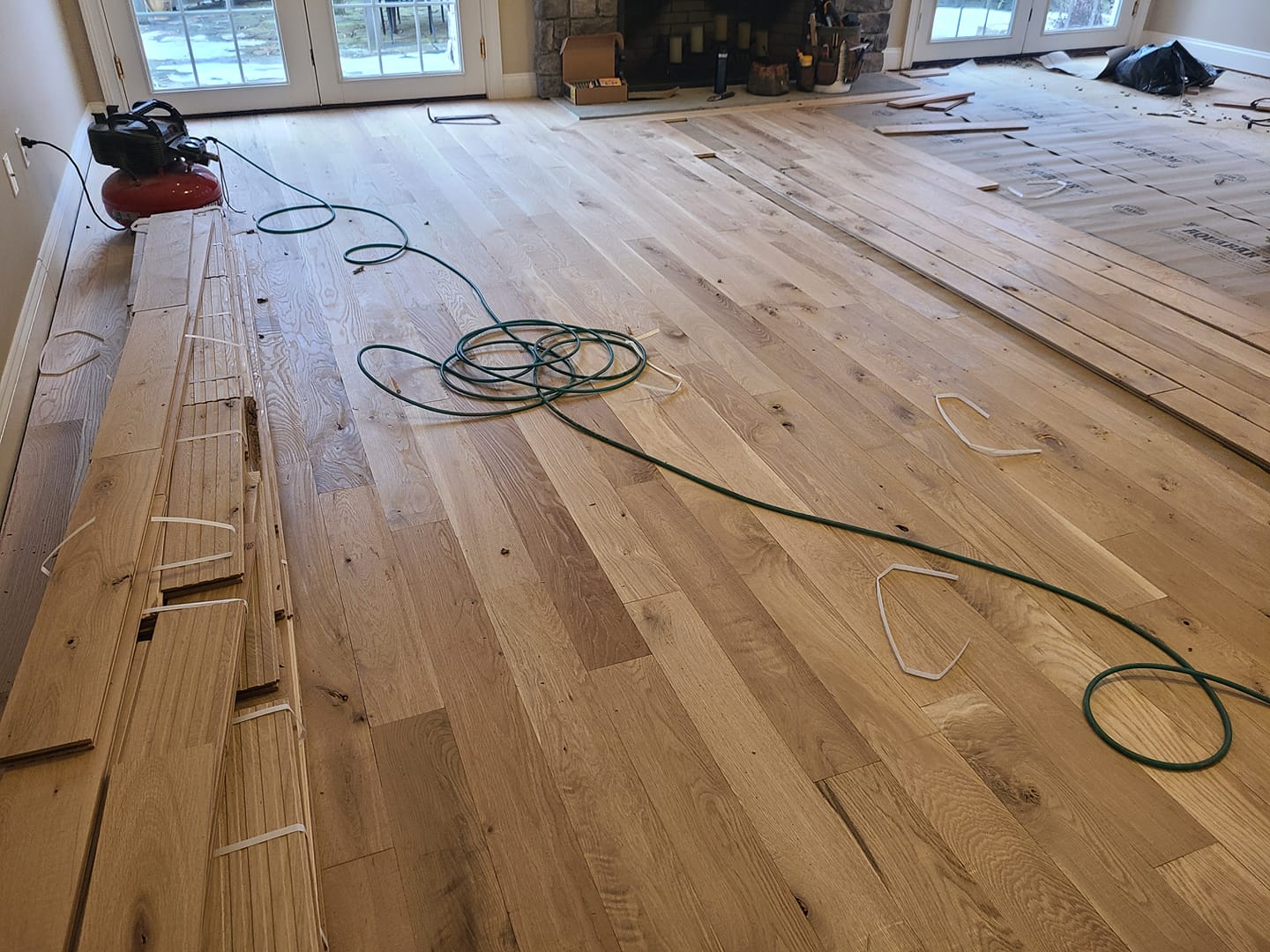 2021 Trends in Hardwood Flooring Textures
The texture of a floor seems like it would be a minimal detail, but the effect it can have on the overall appearance of the flooring is astounding.
Distressed wood flooring is usually created with a machine in a factory. This look adds character to your flooring that gives off a lived-in feel. While this is a popular option for younger homeowners, overall, this is the least popular trend of the three mentioned in this section.
Wirebrushed wood flooring is a nice middle ground option between the other two flooring textures included here. It provides texture in a more subdued sense. With this option, you get a bit of character from the unique texture, but you also get the clean finish that is usually found with typically smooth hardwood flooring. This trend has a smaller niche market and is expected to stick around less than 10 years.
Handscraped wood flooring works with more exposed wood grain than the other two options. The look is expensive and popular with all generations. The handscraped look creates a truly unique look that is worth the time and effort, as long as you can find a company who truly offers this service done by hand.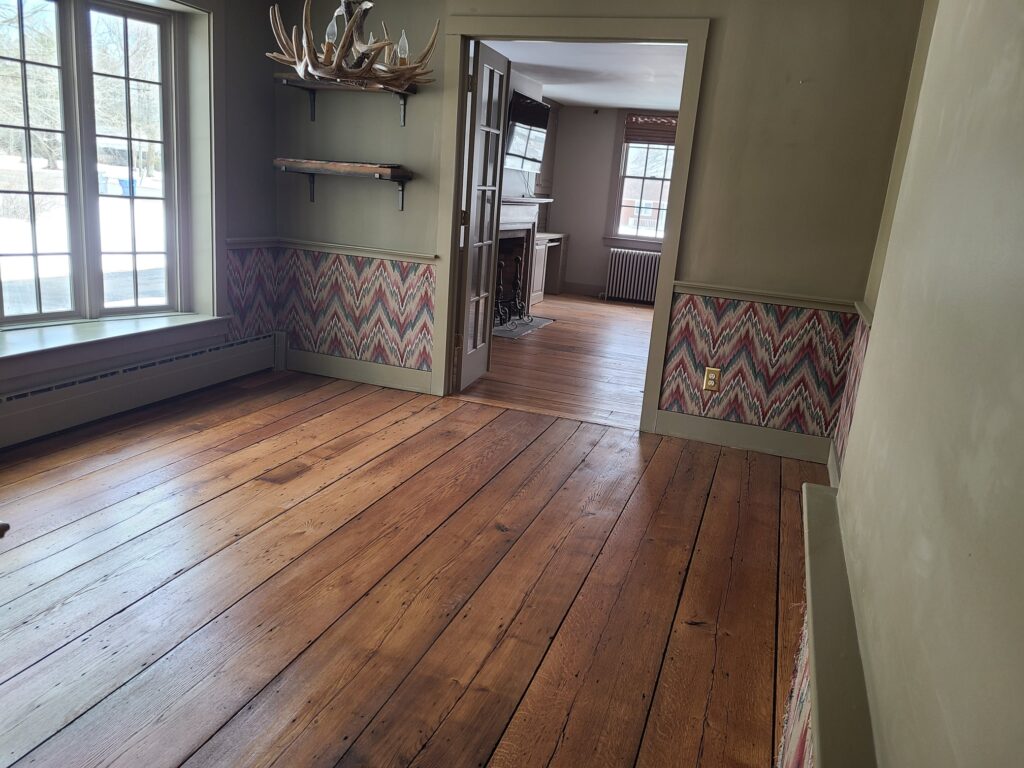 2021 Trends in Hardwood Flooring Colors
If you own your own home, chances are good that you have already experienced how complicated just picking out paint colors can be. Surprisingly, the same can be said for picking out the color of your hardwood flooring. However, we have zoned in on a few major trends we are seeing for 2021 to help you make the best decision for your home.
Greige is the combination of gray, brown, and beige. This shade has taken the home improvement industry by storm in the past year as we have watched it become a popular choice not only for flooring but also for interior and exterior walls. As a flooring color, it is a great option for a modern look that blends well with most decor, making your home ready at any moment for resale. As the top neutral color option on the market, this color is expected to stay popular for quite some time.
Gray is a classic choice for a bolder, modern look. It pairs well with splashes of color, so you are good to go if you enjoy decorating with bright colors. This color is popular right now and will probably stay that way until you are ready to replace your flooring.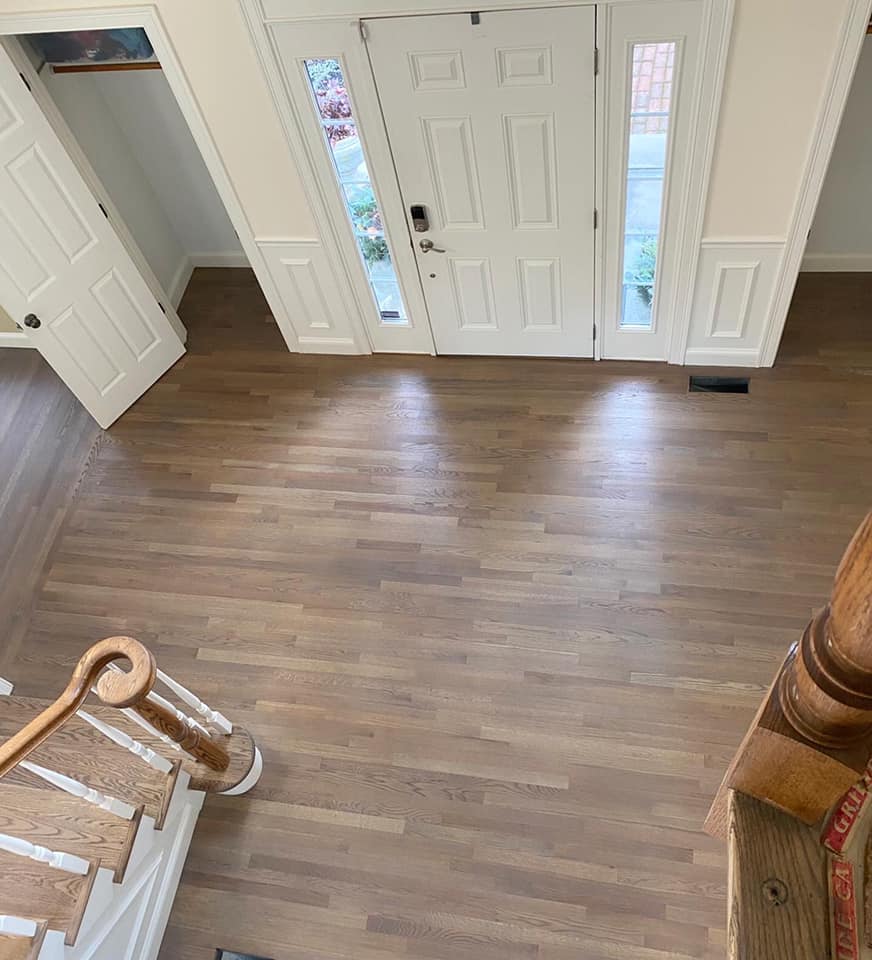 Honey is a warmer tone sometimes referred to as copper. As a natural tone, this color is very easy to find in a variety of wood species. This warm classic will always be around as a top contender.
Whitewashed is a popular option for California homes or farmhouse-style homes and kitchens. The lighter color is a big hit for those wanting to create a bigger and more open vibe in their home. This trend is not expected to last very long outside of a regional preference.
Blonde is taking the flooring world by storm as the top color for new homes. Many choose to purchase floors that are already colored this way instead of using a stain to achieve the desired color. This look tends to open up the space in your home and cool down the overall appearance. The neutrality is a huge benefit as you can pair almost any decor style with this flooring color. This option will continue to be a major trend for years to come.
2021 Trends in Hardwood Flooring Patterns and Layouts
When it comes to hardwood flooring trends, you should also consider the type of pattern or layout you might want. One popular option right now is chevron. With its angles, chevron gives off a customized look that many younger homeowners enjoy. A very similar option is herringbone, which creates a comparable visual effect but with more narrow angles. Both options are very trendy as of today, but this trend is not expected to last for a long time.
A more classic option that is always in vogue is wide plank flooring. This calmer trend opens up every room it is in and tends to look more modern than the thinner, traditional hardwood planks. Already a staple, this option will remain popular for generations.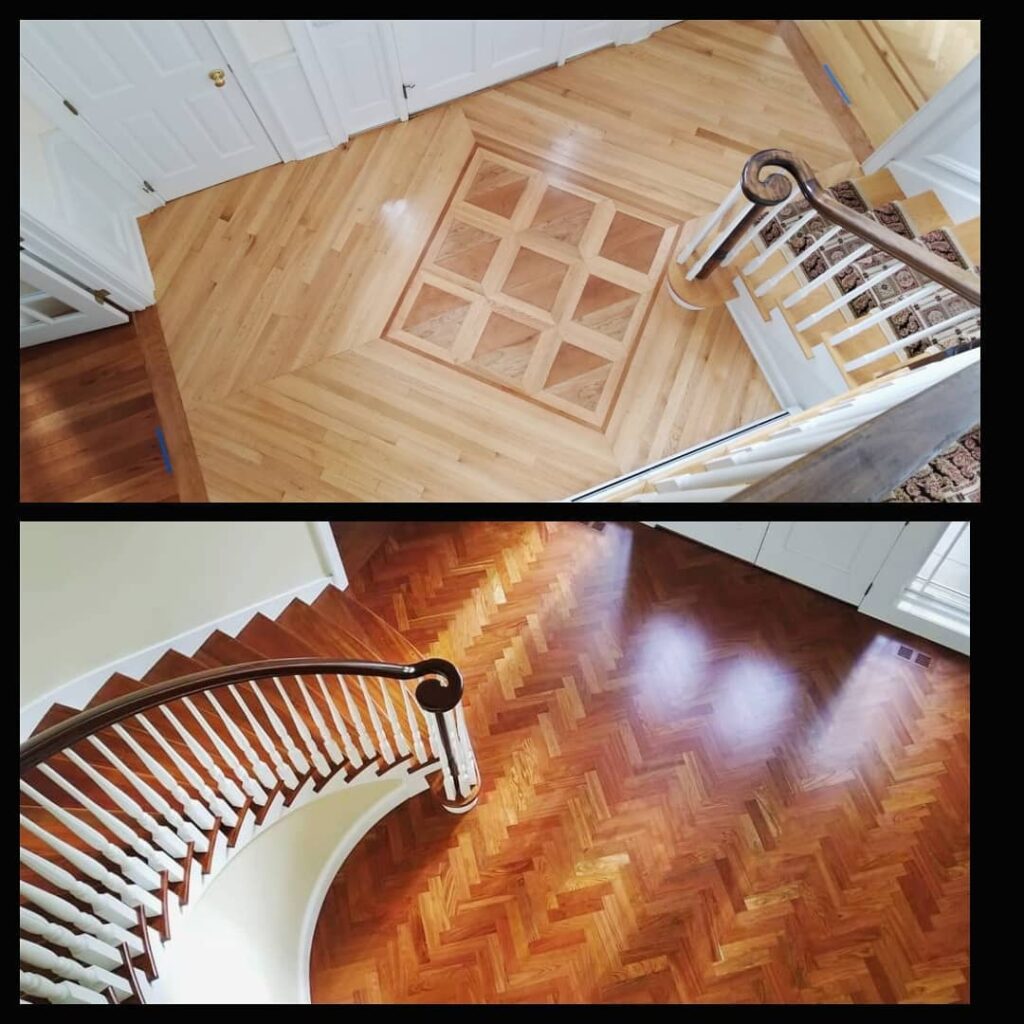 2021 Trends in Hardwood Flooring Finishes
Overall, trends in flooring finishes are moving away from traditional shine and embracing flatter options. One current trend is fumed wood, or smoked wood. This type of finish requires exposing the wood to ammonia gas. A darker, gray look is accomplished when the fumes interact with the tannins in the wood. This is a great option if you are going for a modern style with white oak wood. The classic look is especially attractive for its ability to achieve evenly colored planks. If you go with this type of finish, you can rest assured that the look will stay relevant for quite some time.
A classic satin finish is a safe middle ground option between a glossy or matte finish. This option gives just enough shine to liven up your floors while retaining the edge you need to mask everyday use and dirt. Satin finishes have been really popular in the last couple of years, and they are expected to retain their popularity for the long run. Unlike a glossy finish that has become outdated, a satin finish gives a nod to tradition while still holding its own ground in a modern world.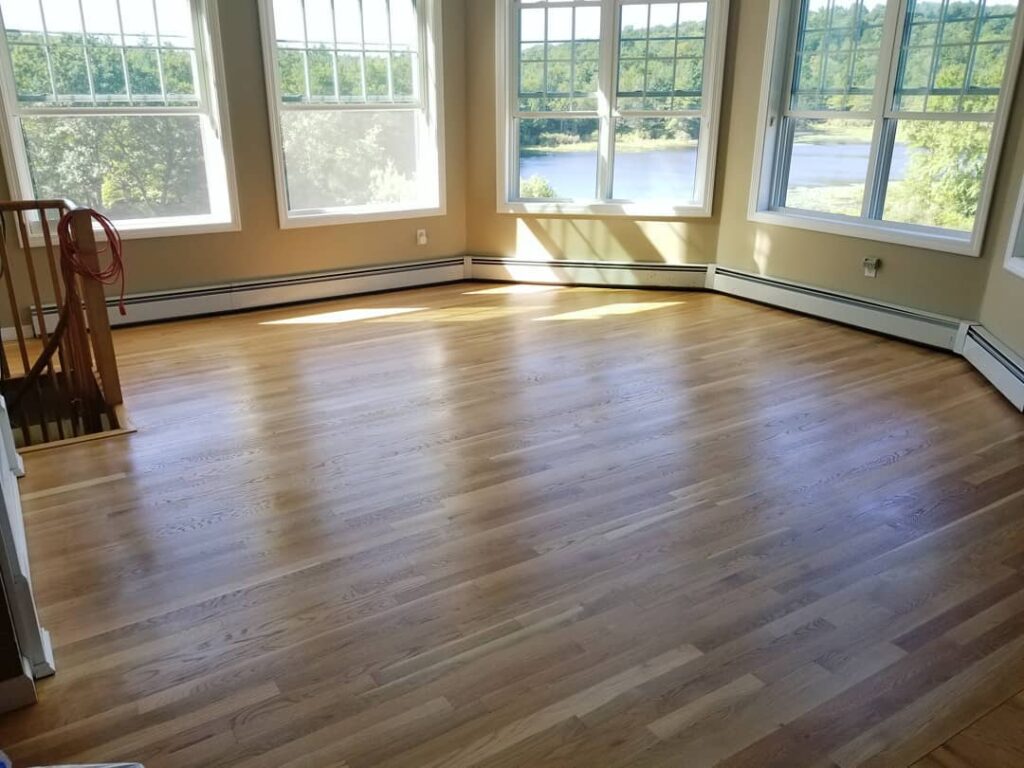 When it comes to hardwood flooring trends, your safest bet will be to choose middle ground options that appeal to multiple generations of homeowners so that you can capitalize on your resale value, should you ever choose to put your house on the market. Another trend that is currently popular is a matte finish. This type of finish is very contemporary and it has been a big hit for those interested in the industrial aesthetic. However, like a glossy finish, this other end of the spectrum could find itself living a short shelf-life of a few more years. If you go this route for your finish, you may find yourself fighting to compare against homes with more modern flooring in a decade or so, but the major benefit is that the durability of the matte finish will last a lifetime.
If you want the most curated look for your specific home, choose site finished wood flooring. This process includes the installation of raw flooring in your home, and then it is sanded down and stained to your liking. The best part about this process is that you get to see the shades of stain with the actual lighting of your home, so you can make sure to achieve exactly the look you desire. This trend is definitely here to stay as long as people continue to be interested in their personal home projects. The only downfall is the time it takes because you do need to take it slowly to successfully complete the process if you are not hiring professionals to do it for you.
A more sustainable option is to do an oil finish. This option includes applying a polyurethane finish that seeps into all layers of the wood. A major positive of this organic trend is that you do not have to sand down the flooring at all. Many people might assume that an oil finish gives off a glossy look, but it actually leaves a matte look to the wood when it is all said and done. While it is true that this process is faster than the others, you may have to repeat this process more often than the other ones we have mentioned. As long as a matte finish is in popularity, so will the oil finish trend.
Should I Hire a Flooring Professional?
While it is possible to update your hardwood flooring by yourself, it is a better use of your money to hire a flooring contractor because you can trust you will not have to pay out of pocket for your own mistakes. You could also do a decent job the first time, but a professional can guarantee an exceptional job because it will not be their first time. Not only does a professionally completed hardwood floor have aesthetic appeal, but it also increases the resale value of your home. Potential buyers who walk into a home could see old, worn-out floors and wonder what else is wrong with the house. This could lead to a buyer making a low offer, if they even make an offer at all. The cost of investing in effective hardwood flooring trends is an investment not only for the current homeowner to enjoy, but also for future homeowners.
Contact us today at Patrick Daigle Hardwood Flooring to discuss your flooring needs and options. With four generations of experience, we continue to provide exceptional, quality service to the Connecticut area.