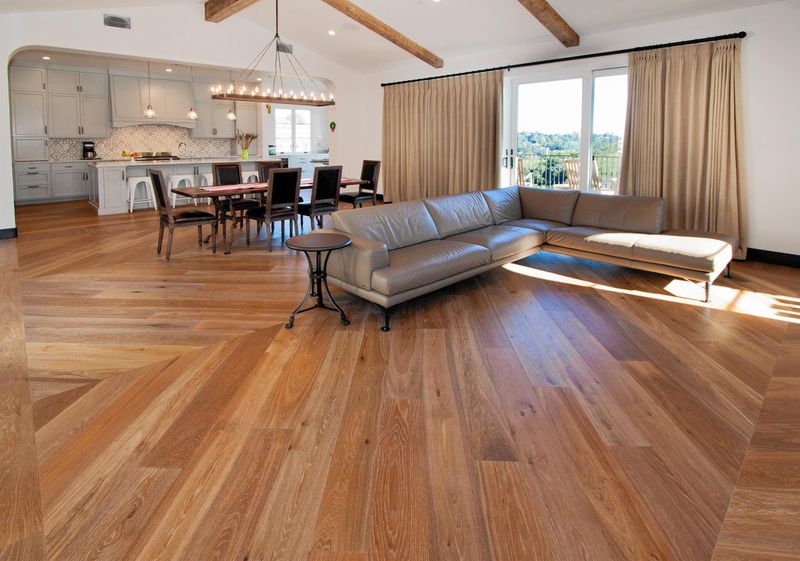 Important Decisions to Guide You Towards the Perfect Flooring
So you've decided to go for it, or maybe you're just doing the research. Either way, you're
coming across more options than you can imagine for revamping your flooring and installing
hardwood. With an incredible increase in styling and installation options due to technological
advances and shifting trends, it can be just enough to tip you into the category of overwhelmed.
But don't let the seemingly limitless combinations deter you from taking the step. We've got you!
We've outlined some of the major "This vs That" decisions you'll face as you customize your
flooring so that you can make your choice with confidence. Dream home with perfect flooring here we come! A few things to keep in mind as you work through these decisions. Consider which hardwood flooring combination fits your lifestyle in terms of durability, maintenance and, of course, aesthetics. What do you already have in your home that you don't plan on remodeling at the moment? (Think: am I keeping those maple cabinets? Etc.) How much can you, or are you
willing to, invest in terms of both cost and time? Do you have little ones or pets in your home?
Are you renovating to increase the resale value of your home? (If personal preferences are
lower on your priority list, and even if not, take a look at our previous blog "What's Trending in
Flooring in 2020?" and see what we've found to be popular this year!) All these starting points
can provide helpful boundaries in your search. While each choice will have both aesthetic and
functional consequences, we've divided up our top 7 choices into the two categories to help
organize your decision making process towards the perfect flooring.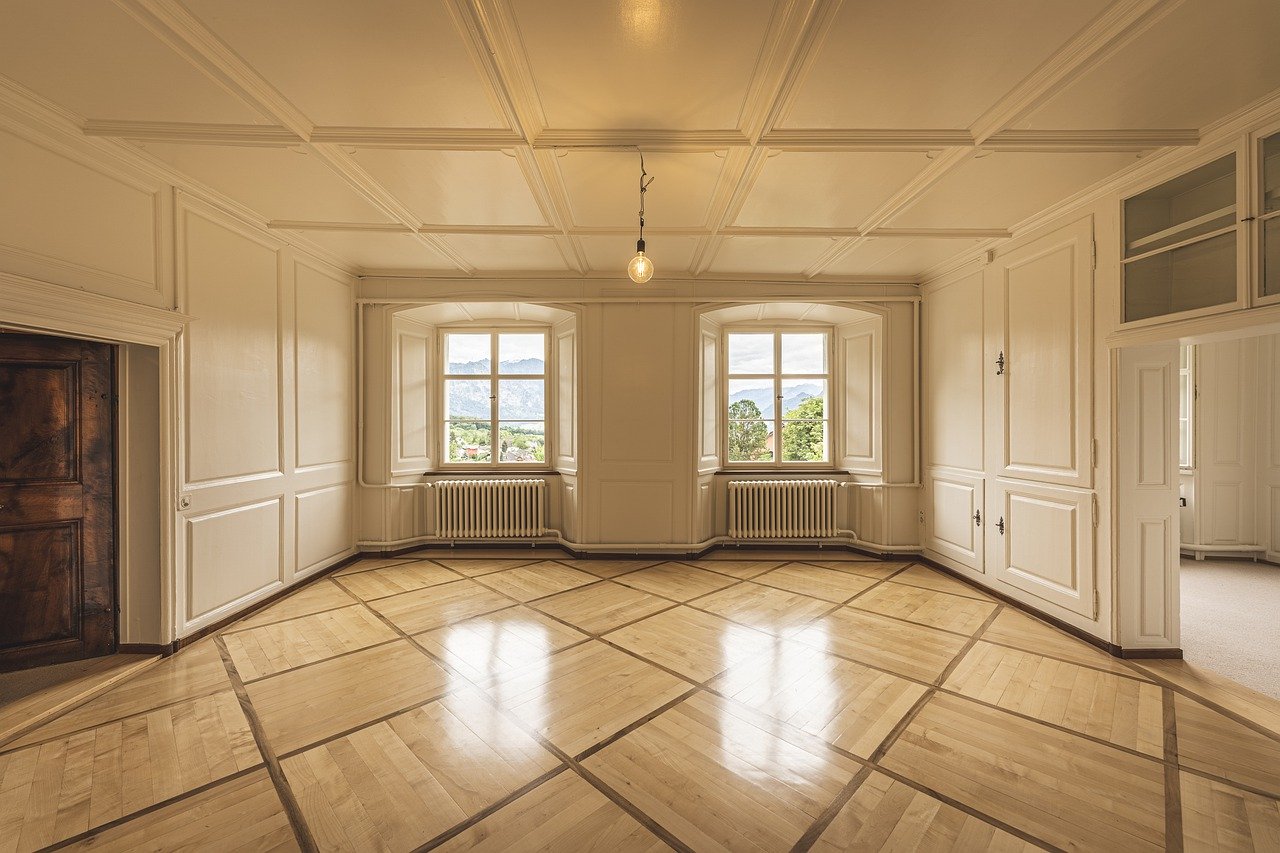 Aesthetic Decisions: Wood Species, Grain and Character:
To start, you need to decide on which type of wood fits your vision. Most of this decision
is personal preference and depends heavily on the feel you want to bring into your
home. The current trend we are seeing is adopting cooler tones in your hardwood for a
more modern or contemporary feel as opposed to the more traditional, redder
hardwoods. The classic choice is white oak: popular, durable and widely available.
Walnut's rich, dark brown coloring is great for a refined and modern look. Maple and
Birch are both blonder woods that can make your room feel airy and light. (A note:
Lighter colored woods are typically more durable than darker woods and will show less
scratches and scuffs. This makes it optimal for families with younger children or pets!)
Deciding what feel you want to bring into your room will ultimately narrow down the
options!
Next, consider how wide you would like the individual wood boards to be on your perfect flooring. Narrower boards have been considered standard; however, the trends we've noticed (as seen in
our previous blog posting) involves the increased use of wider planks. Generally, a wider
plank is more expensive and less stable — meaning changes in weather, specifically
humidity, will increase how much it naturally expands or contracts. It has a casual, yet
modern look. Narrow boards in a smaller room will make it look larger while wider planks
are nice in larger spaces. Consider proportions of your space and your stylistic desires
when deciding on this factor.
Once you've determined which type of wood you'd like and at what width, you should
consider your preference for the graining. Depending on how the wood is cut initially, the
wood grain will be more or less prominent. There are many ways to cut wood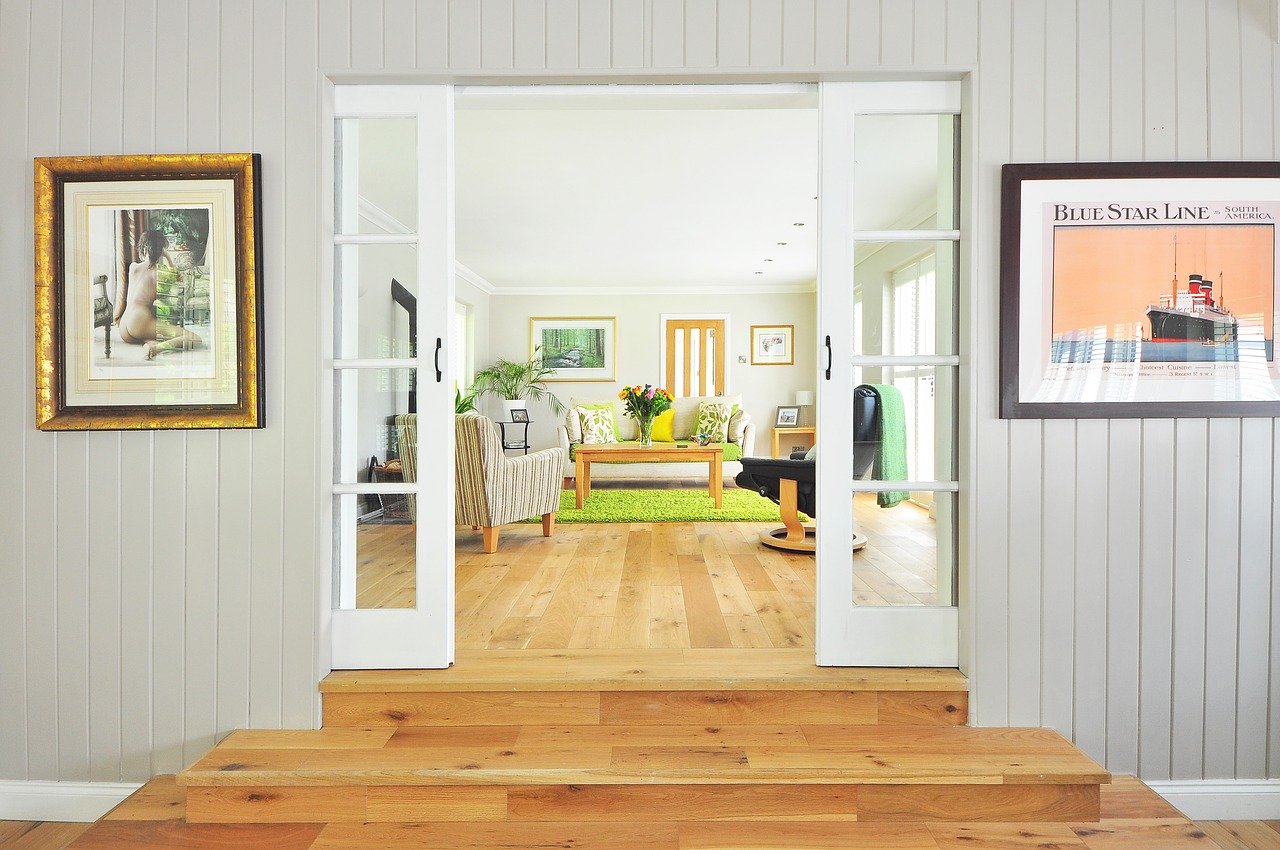 when creating the boards for hardwood flooring. These include flat-sawn which creates a wavy grain, rift-sawn which creates the straightest and cleanest grain and live-sawn which will include a multitude of patterns in the graining. Consider how much uniformity you want in
your flooring; if you're leaning towards more rather than less, perhaps rift-sawn or a similar quarter-sawn. If you want the opposite, maybe live-sawn is the way to go.
Increased uniformity in the grain will create a more modern look in your home.
Another factor determining the uniformity of your flooring would be the 'character' of the
wood. The grade of character can drastically influence the uniformity of your flooring.
There are three categories for wood character: clear grade would not have any knots,
light character grade will have a few, smaller knots, and character grade will have the
most and the largest knots. Similar to the graining, this decision comes down to how
uniform you want your flooring to look. If you're looking for even more character in your
flooring than character grade would provide you with (and perhaps also a more
sustainable option for hardwood flooring), refurbished wood might be for you. Choosing
salvaged wood will have the most character as it might have cracks or nail holes in
addition to knots. This option creates a more rustic feel in your home, however paired
with certain design elements, it can still result in a modern look.
Functionality: Make Up and Finishing

Our first factor that leans into the more 'practical' considerations would be deciding between solid or engineered wood. Solid wood is as it sounds — the entire board is of one type of wood. It's ideal for extremely dry areas as it will expand and contract depending on humidity. It can be refinished many times giving you the option to adjust your look some without needing completely new hardwood as your desired home design might shift over the years. In contrast, engineered wood is made of multiple layers of wood — and very likely multiple types of wood. Having the multiple layers makes it more stable so that it expands and contracts less as the weather shifts. Engineered wood can also be glued directly onto concrete and does not require a plywood subfloor which can
save an extra inch or so for the often desirable and coveted high ceilings. Because your
chosen wood is a thinner top layer for engineered wood, it can be refinished fewer times
and sometimes only once.
Moving away again slightly from the more aesthetic considerations, you also will need to
choose between prefinished or site finished for your perfect flooring. Prefinished flooring is done in a factory which makes it by far the lesser commitment in terms of both cost and time.
Prefinished flooring can be installed in a day and does not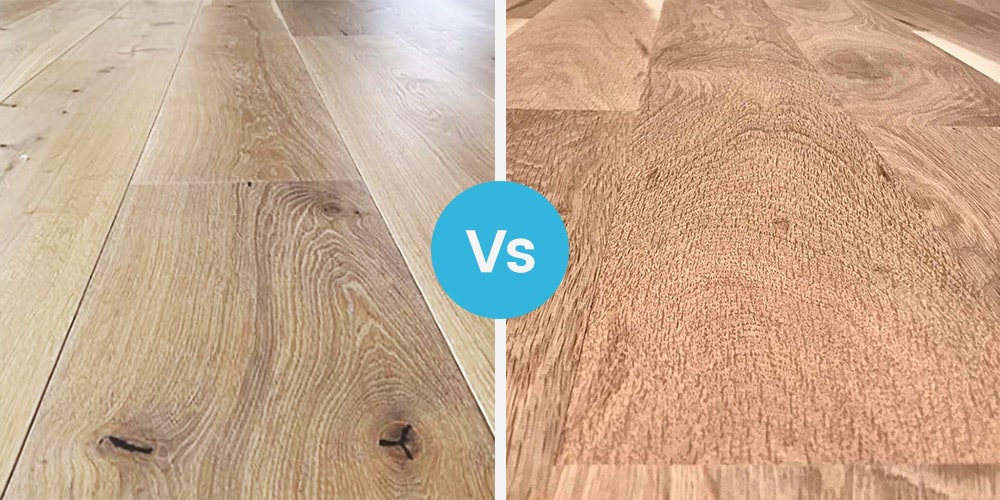 require waiting before you
can walk on them. Stylistically, however, with prefinished flooring you will notice the lines
between boards more. In comparison, site finished flooring does require the extra time and cost as your contractor would be sanding, staining and finishing your flooring in your home. Given that it is sanded in home once laid out, your flooring will look more like one
unit without the gaps evident in prefinished flooring. This requires that the home is
vacated to allow for the physical work, installation and the drying of the stain to happen
(which can be days or weeks) before you can walk on your floors — something you
should definitely consider and take into account when developing your home update
timeline.
In reference to durability, consider which finish you apply to your flooring. It's important
to finish your hardwood to protect from moisture and general wear and tear. Oil based
finish will soak into the wood whereas water based finish essentially sits on top. The increasingly popular water based finish is durable but difficult to repair. In comparison, oil
based finish is easier to repair but typically requires regular maintenance. Both options
have a range of gloss levels but remember, less sheen means less noticeable wear —
making matte options more ideal for families with children or pets!
It'll take some thinking to determine which combination of flooring styles and installation options
is optimal for your home, but it can be done. And, as always, consult the experts before diving
in. We look forward to helping you update your home with the perfect flooring for your family!