Roomvo Floor Visualizer
Lets be honest: When you are shopping for a new pair of jeans, you probably want to try those jeans on before buying them.  It is important to make sure you love the color, fit and comfort.  In addition, you have to be certain that the jeans will fit your lifestyle and whatever activities you plan to complete in them.


The process is similar when shopping for your next hardwood floor selection.  To discover even just your top three picks, there are so many options! From the finish, color, durability, character, species, thickness, width, and length – there are too many options to count!
Fortunately, there is an easy way to find your new hardwood floor!  RoomVo Floor Visualizer is a new technology that is now offered through our Patrick Daigle Hardwood Flooring website.  This new technology is user friendly and offered for free through our family website!  It will give you the ability to see what different flooring will look like in your home.  Using the explore options, you can narrow your choices and invite inspiration through the wide variety of flooring products offered.
How it works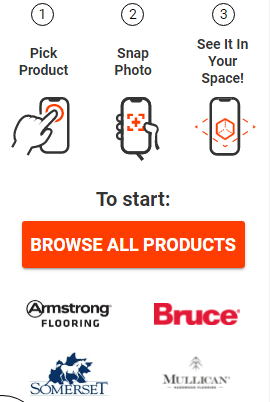 It's as easy as 1-2-3!
2. Snap a picture of your own space, upload a picture or choose a pre-made designer-curated room.
3. Browse our showroom's offerings in the comfort of your own home. Now you really can try on a new floor for size!
Our family website offers many products including luxury and premium hardwood floors.  You can even have the option to search for carpet or tile too!  No app to download, no instructions needed, no hassle!
Be sure to check our our website today to experiement with this new tool!  Shopping from the safety from your home is the new norm, so we try to make that experience as easy as possible!  Do you need help researching?  Give our expert sales staff a call in Manchester, CT and we can get you the best competitive pricing!  Visit our Roomvo Floor Visualizer here: https://patrickdaigleflooring.com